Finding Forever is a fledgling foundation dedicated to raising money and awareness for animal rescue causes through the arts.
Founded in 2011 by author and animal communicator Dobie Houson, Finding Forever has already raised thousands of dollars for animal rescue groups, sanctuaries, and charities. Among them: Coastal German Shepherd Rescue, Hearts United for Animals, Best Friends Animal Society, Alley Cats Allies, Fur and Feather Animal Sanctuary, and USA Battle Buddies, a non-profit organization providing service dogs to wounded veterans. 
A portion of the sales from Houson's books, Finding Forever: The Dogs of Coastal German Shepherd Rescue and her award-winning Four-Legged Wisdom: Sacred Stories from an Animal Communicator are donated to animal rescues and sanctuaries.
The Humane Society estimates that U.S. animal shelters care for 6-8 million dogs and cats every year, and that approximately 3-4 million of them—many being young, healthy, and adoptable—are euthanized.
Finding Forever is committed to finding solutions.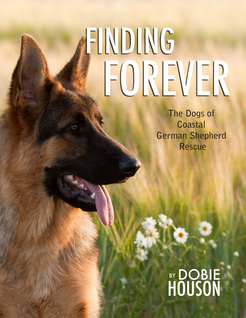 Watch a video about Finding Forever!