Commanding and intense, this handsome boy's piecing gaze could stop traffic. With Dagger on the end of your leash, you'd be sure to attract an admiring glance or two. Dagger lived with his family since he was a small puppy. Although he had a doggie friend (a Rottweiler), both dogs spent much of their time outside in separate kennels. So Dagger lived a fairly isolated life and missed out meeting new people, going new places, and seeing all kinds of new things. Without those opportunities and despite his formidable appearance, Dagger lacked confidence and was extremely insecure. And he was confused about why his people had left him and what the future held for him.
When he came to rescue, a team was assembled to help him adjust to his new life. The leader of his new team was his savvy new foster mom. In his foster home, he learned from the other dogs and gained confidence. He adapted to life in a home beautifully , mastered crate training and housebreaking quickly, and began to conquer basic commands.
Proper socialization brought out his affectionate side, and over time he discovered that he loved to rest in his human's lap and watch TV. And he discovered how fun it could be to fetch toys, get groomed, and just get some good old-fashioned lovin'.
Despite his progress, we knew Dagger would do best in a savvy home with other outgoing and confident dog to continue to bolster his developing confidence.
When I saw his photo for the first time, he took my breath away. And when I tuned into him, he told me he was a bit of a handful. When I asked him about it, he said, "I like to think, smell, feel, breathe, see…everything. That makes me a handful. I can be a challenge to keep up with once I am comfortable with my surroundings."
Dagger met his forever family on a Saturday. They had lost their beloved Rebel, a Rottie-Aussie mix, and Tikki, their remaining GSD, was lonely. And the family's daughter missed Rebel even more and needed to find a dog that would interact with her more than Tikki wanted to. So they packed up Tikki and came to an adoption event at our kennels, where they met several of our dogs.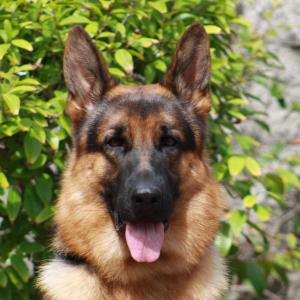 But Tikki snubbed one after another. The first dog was too playful and too loud. The second dog was too chill. Then Dagger came along. And he was just right. Well…it took some time. Tikki likes to play hard to get. We began the introductions by having the dogs walk side by side. But true to her diva form, Tikki got her nose out of joint, and she looked everywhere except at Dagger. Then they went to the play yard, where both sniffed together, played with the toys, and just hung out in general. Tikki had decided that he was okay. Dagger spent the yard time checking out the people in his prospective family. He sniffed the mom, lingered a moment, and then moved on the daughter. And then back to Tikki. And then back to the people. Every time he came to the daughter, he lingered a little longer and sniffed a little longer. Then he gave her a subtle nudge with his nose.
Dagger's family has reported that everything is going great. And Dagger is grateful to everyone who supported him during his journey, to the family who will be with him forever, and to Tikki for picking the right one. When I tuned into Dagger one more time to ask him how things were going in his new home, he said simply, "I can be me." And what a beautiful thing that is.